Innovative.
Showcase.
Immersive.
Experience.
We've come a long way from the screeching noise of connecting to dial-up internet. Being online is no longer a hobby, but a lifestyle. We're interwoven globally, forming communities, playing games, and hearing new music every single day. That's sick. Really sick.
Experiential Marketing for Consumer Electronic Brands
BeCore appreciates consumer electronic brands for their ability to craft connections, uninhibited by walls, oceans, and differences. With technology's fast and furious mode of evolution, we know that experiential marketing is necessary to create engagement and memorability in an ever-changing landscape.
BeCore believes experiential marketing for consumer electronics is a give-and-take. You put people at the center of the action, and you let them do the talking. Innovation, collaboration, feedback, and listening. Distance doesn't control connection; we do.
Start A New Project
Our Expertise.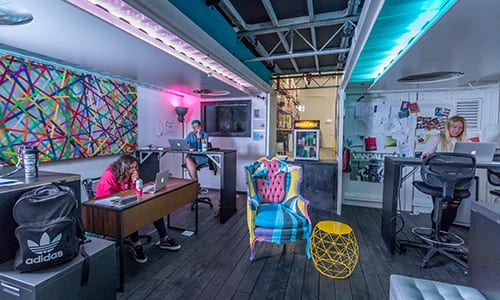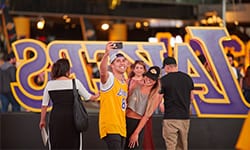 We know you're not just selling your entertainment platform, but the human experience that comes along with it as well. We've had the great fortune of creating connections for popular brands such as Microsoft, XBOX, Kinect, Amazon, Beats by Dre, DTS, Zune, Xumo and more.
When BeCore is involved, you can trust that human interaction is wired into the circuitboard of your platform or product. Why? Because we place people over pixels.
Brands we work with


What we did for
Microsoft Windows 10
For the Windows 10 software upgrade, BeCore paired them with NASCAR to create VIP fan experiences. All visitors participated in upgrade demos in the Fan Midway, 22 of which were upgraded to exclusive access to a 60'x40' infield footprint next to the starting line for premier race-watching.
Everyone who entered the Fan Midway not only tinkered with Windows 10 demos, but applied to win a VIP NASCAR experience.
The 50'x50' Fan Midway footprint was open to everyone, and an additional 60'x40' area along the starting line was specifically for winners.
The footprints always emphasized the impeccable ability of Windows 10 to upgrade and accelerate, just like the pros.
Upgrading User Experiences, On and Off the Track
Impressions that echo.
From 2,000,000+ direct interactions came over 5,500,000 social media impressions. Whether viewed on a Windows OS or otherwise, the brand used real experience to change perception and educate.
Star experience with the stars.
Upgraded participants were given the opportunity to meet Dale Earnhardt Jr., going home with signed merchandise, serving as a reminder and creating a positive memory.
What we did for
Microsoft XBOX
To give players, influencers, and friends and family of both, the full NBA experience, BeCore and Xbox paired up to form an exclusive barber shop and gaming lounge. Visitors received the chance at a free cut, buzz, or style from celebrity barbers, all while sampling the latest games on Xbox One X.
All of the barbershop cuts were provided by celebrity barbers like JayR Mallari (@jaymallari) and Marcos 'REGGAE' Smith (@regdabarber).
The shop was filled with familiar faces, including several athletes, celebrities, and their friends and family.
In order to promote Xbox One X, the interior design reflected common console features, awash in the iconic bright green aura.
Immersivity Beyond a Console
Experience the latest.
The event lasting three days meant that NBA fans and players alike had a chance to experience the newest games on Xbox One X.
Made to be shared.
With 75 million social impressions and 141 million media impressions, the mark of the event is clear: near or far, you heard about the gaming lounge.
What we did for
XUMO
XUMO, a content service provider, showcased their mobile and television app interface at VidCon. Photo-booth spaces were constructed from stained plywood pallets, creating a mock classroom, bedroom, and living room. The space featured internet culture-based props, and passersby were treated to XUMO swag, Rubik's cubes, and display cleaning kits.
Comfy, cozy, and exactly how you'd use it: every set was designed to mimic the environment users would experience Xumo.
The backdrops for each setting were made of recycled and stained pallets and plywood, creating a homey, comfortable vibe.
The Xumo footprint was crafted with photo-taking in mind, including celebrity and emoji cutouts for attendees to pose with.
Room to explore.
Each quadrant was specially designed to resemble the places our guests go the most in order to resonate as they next enter a bedroom or classroom
At home or on the go.
Much like Xumo's app interface, the memories made in this VidCon display are meant to be shared, at home or online.